Regular reports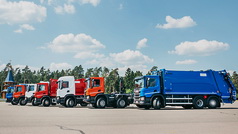 TRUCK FLEET IN RUSSIA
The marketing agency Russian Automotive Market Research presents «Truck Fleet in Russia» database (as of 01.07.2019 г.).
This database provides for the fleet structure by brands and models, year of manufacture, technical specifications and many other parameters.
Market Analysis
Information
---
Customized products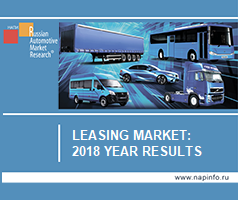 LEASING MARKET: 2018 YEAR RESULTS
The «Leasing market: 2018 year results» marketing report provides for results of the analysis of leasing contracts effective as of January 1, 2019 and data of the leased vehicle market.
During the «Leasing market: 2018 year results» research: dynamics of the number of leasing contracts and leasing subjects was revealed, the validity terms of leasing contracts were analyzed, dynamics of activity of lessors and lessees was revealed, the market of new and used leased vehicles by brands and models, price segments, body types, regions, etc was analyzed.
---