---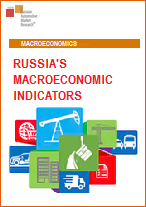 Russian Automotive Market Research presents
the monthly report on RUSSIA'S MACROECONOMIC INDICATORS.
Macroeconomic indicators reflect the current state of the national economy. The current economic downturn with fast changing oil prices, exchange rates etc, makes the report especially worthwhile as it allows the company to keep abreast with the market conditions and adjust its strategy in the country as well as the regional strategy, come up with a short- and mid-term sales forecast.
Benefits of the report:
- Key indicators are collected in one report;
- The report data are updated monthly;
- The report provides RF data as well as regional data.
CONTENTS:
---
Russian indicators Regional indicators
---
Brent oil price, USD/bbl
URALS oil price, USD/bbl
US dollar exchange rate, Rub/USD
Euro exchange rate, Rub/EUR
Fixed capital investment
Number of the unemployed
Construction work
Agricultural produce
Mining production
Freight turnover
Passenger turnover
Retail trade turnover
Wholesale trade turnover
Real disposable income
Retail lending
Corporate lending
Market basket
Federal revenues
Federal expenditure
Federal budget surplus/deficit

Consolidated budget revenues
Consolidated budget expenditure
Consolidated budget surplus/deficit
Export
Import
Foreign national debt
Russian Reserve Fund
Russian National Wealth Fund
Stabilization Fund of the Russian Federation
Type of money (М2)
Gold and foreign currency reserves
Crude oil extraction (NGL included)
Crude oil supplies
Crude oil export
Natural gas extraction (NGL included)
Natural gas export
Petrol production
Diesel fuel production

Industrial production index
Consumer price index
Construction work index
Mining production index
Retail trade turnover index
Wholesale trade turnover index
Real disposable income
Market basket
Services purchased by the public sector
Taxes and other obligatory payments to the State consolidated budget
Export
Import
Tax and dues arrears to the State consolidated budget

EXAMPLE: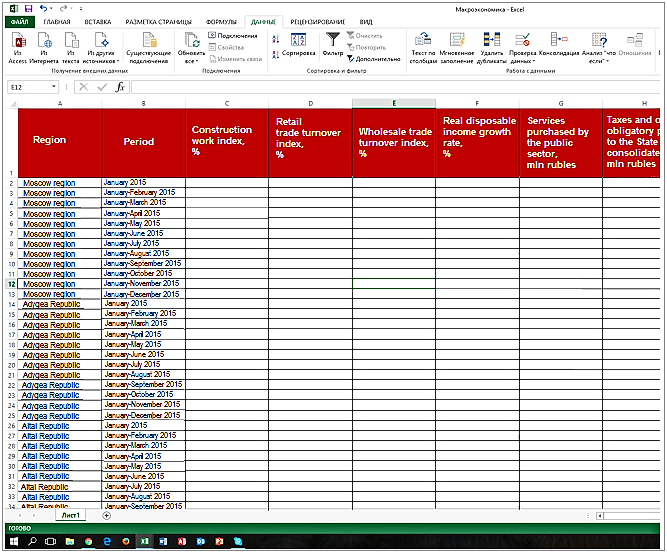 ---
Contact information:
Tel: +7 (831) 464-02-98
Tel: +7 (831) 439-21-82
E-mail: napi@abiz.ru