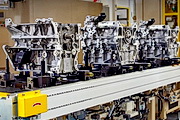 Russian Automotive Market Research
Mazda opened the engine assembly plant for its cars in Vladivostok. The new enterprise is located on the territory of advanced development area «Nadezhdinskaya». The total project value amounted to 3 billion rubles.
Mass production of engines shall begin before the end of this year. The plant will be able to produce 50 thousand Euro-5 Mazda SkyActiv-G petrol engines with a maximum capacity of 150 HP.