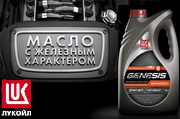 Russian Automotive Market Research
The oil company «Lukoil» signed an agreement with Volkswagen Group Rus on the supply of motor oil for the conveyor priming at the plant of concern in Kaluga. Especially for this project «Lukoil» began to produce Lukoil Genesis VS 5W-40 oil under Volkswagen technology.
A mandatory condition for suppliers of components and consumables for Volkswagen, including lubricants, is the certification in accordance with ISO/TS 16949 international automotive standard and VW Formel Q own standard, as well as strict quality control of products at the plant.
The agreement became an important element of the localization process for the automaker, the implementation of its norms is prescribed by the federal legislation of Russia to foreign companies.