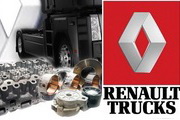 Russian Automotive Market Research
Renault Trucks opened the online supermarket, in which the brand customers can order genuine spare parts.
Users have access to the catalog of Renault Trucks genuine spare parts. Visitors of the online store have the opportunity to select spare parts by article, VIN-number of the truck, chassis or model number. Before ordering the customer can check the availability of spare parts at the service station and in the central warehouse. Related products such as oils and lubricants are also available for order. The site provides for the possibility to sign up for service.
In addition, the official www.volvogroupshop.ru online-store sells spare parts for Volvo trucks.