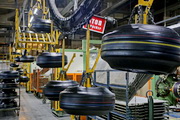 Russian Automotive Market Research
It is planned to implement the project of Kirov Tire production modernization to increase the output of large tires, namely of 16-17 inches, until 2021.
Now more than half of tires produced by Kirov Tire are exported. The plant also produces products for the Russian divisions of such companies as Volkswagen, Skoda, KIA, Renault and GM-AVTOVAZ. In addition, tires manufactured by Kirov Tire are supplied for the primary equipment of LADA Vesta, Lada XRAY, Chevrolet Niva and UAZ Patriot cars.