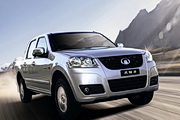 Russian Automotive Market Research
In 2017 «Stavropol-Auto» plant produced 1400 DW Hower H3 SUVs. Mass production of DW Hower H3 was launched at «Stavropol-Auto» plant in May 2017, cars are made of vehicle kits supplied by the Chinese Great Wall Motors. In February 2018 the company started production of DW Hower H5 frame all-wheel drive SUV, cars will be available in official dealerships in the first half of March.
In 2018 the company plans to launch two new models assembled in Russia in partnership with Great Wall: DW Wingle frame pickup (licensed Great Wall Wingle 5) and DW Hower M6 crossover (licensed Haval M6). At the moment both models are under certification, the launch of production and sales is scheduled for the second half of 2018.
«Stavropol-Auto» carries out the full cycle production, including body welding and painting, car assembly, diagnostics and testing of the finished car. The design capacity of the plant is 100 thousand cars per year.