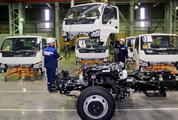 Russian Automotive Market Research
With the assistance of the Ministry of Economic Development and the government of the Ulyanovsk region a large investment project on the creation of assembly production in collaboration with Isuzu is implemented in the territory of UAZ industrial park.
On May 26, 2018 in Moscow, Isuzu Sollers concluded a special investment contract with the Ministry of Industry and Trade of the Russian Federation and the Ulyanovsk region to implement the technology partnership project in Russia, which provides for the creation of a new joint product in a segment of medium-duty trucks and export through Isuzu distribution network worldwide.
Production at the new facilities will be launched in 2021.