In the first quarter of 2018 new bus sales in Russia amounted to 2.9 thousand vehicles, which was an 11.5% rise on the same period of 2017. In March 2018 the market grew by 25% on March 2017.
PAZ sold 1.57 thousand buses (+7.5%) and accounted for 54% of the new bus market.
LIAZ and NEFAZ came second and third with a 13% and 57% growth in sales correspondingly.
Chinese brands are increasing their sales on the Russian market: in 2018 their sales showed a 4-fold rise on the first quarter of 2017 to 0.24 thousand vehicles. ZHONG TONG and YUTONG sales were 10 times as high as the previous year. So the market share of Chinese brands went up from 2% to 8%.
New bus sales, 2018 Q1/ 2017 Q1, thousand units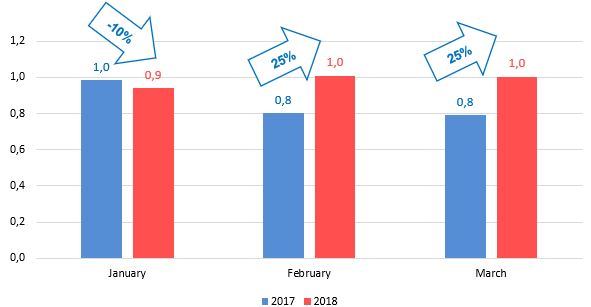 Source: Russian Automotive Market Research
New bus sales, 2018 Q1/ 2017 Q1, thousand units
| | | | |
| --- | --- | --- | --- |
| Brand | 2017, Jan-March | 2018, Jan-March | Change, % |
| PAZ | 1,46 | 1,57 | 7,5% |
| LIAZ | 0,54 | 0,61 | 13,0% |
| NEFAZ | 0,14 | 0,22 | 57,1% |
| YUTONG | 0,01 | 0,12 | 1100,0% |
| MAZ | 0,16 | 0,09 | -43,8% |
| KAVZ | 0,07 | 0,09 | 28,6% |
| VOLGABUS | 0,07 | 0,08 | 14,3% |
| ZHONG TONG | 0,004 | 0,05 | 1150,0% |
| HIGER | 0,01 | 0,03 | 200,0% |
| GOLDEN DRAGON | 0,01 | 0,03 | 200,0% |
| Other | 0,13 | 0,01 | -92,3% |
| Total | 2,6 | 2,9 | 11,5% |
Source: Russian Automotive Market Research



Growth in new bus sales, 2018 Q1/2017 Q1, %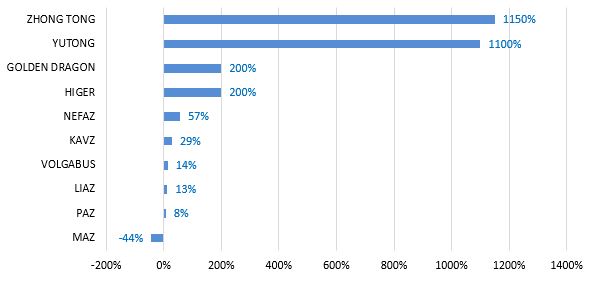 Source: Russian Automotive Market Research