In Jan-Apr 2018 new bus sales amounted to 4,2 thousand vehicles. Thus the market grew by 16.7% on the same period of 2017. In April 2018 new bus sales showed a 30% YoY growth and amounted to 1.3 thousand buses.
PAZ accounted for 50% of the market: PAZ sold 2.09 thousand buses which was a 1% rise on 2017.
LiAZ and NEFAZ came second and third with a 41.8% and a 47.1% growth in sales correspondingly.
Foreign brands are successfully expanding into the Russian bus market: Sales of Russian brands went 12.7% up whereas sales of foreign brands increased by 91.5%. The market share of foreign brands grew form 9% to 15% in the period under consideration

New bus sales, Jan-Apr, 2017-2018, thousand units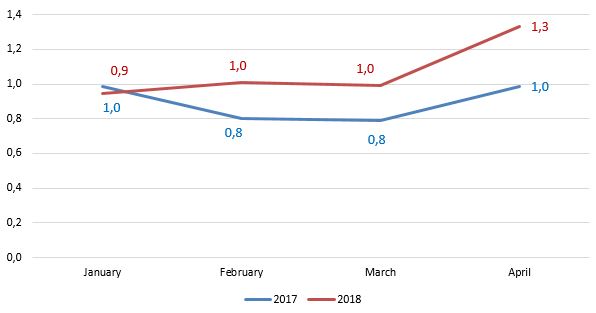 Source: Russian Automotive Market Research

New bus sales, TOP-10 brands, Jan-Apr, 2017-2018, thousand units
| | | | |
| --- | --- | --- | --- |
| Brand | Jan-Apr 2017 | Jan-Apr 2018 | Change, % |
| PAZ | 2,07 | 2,09 | 1,0% |
| LIAZ | 0,67 | 0,95 | 41,8% |
| NEFAZ | 0,17 | 0,25 | 47,1% |
| YUTONG | 0,03 | 0,18 | 500,0% |
| MAZ | 0,17 | 0,18 | 5,9% |
| VOLGABUS | 0,15 | 0,11 | -26,7% |
| KAVZ | 0,09 | 0,1 | 11,1% |
| GOLDEN DRAGON | 0,01 | 0,07 | 600,0% |
| HIGER | 0,02 | 0,06 | 200,0% |
| ZHONG TONG | 0,01 | 0,06 | 500,0% |
| Other | 0,21 | 0,15 | -28,6% |
| Total | 3,6 | 4,2 | 16,7% |

Source: Russian Automotive Market Research

New bus sales by brand origin, Jan-Apr, 2017-2018, thousand units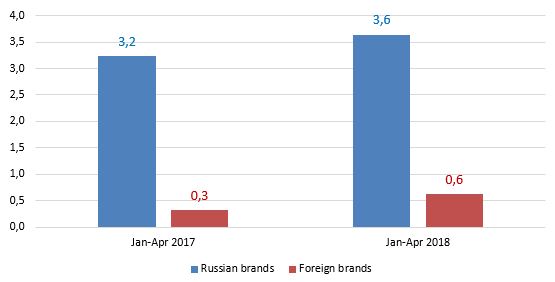 Source: Russian Automotive Market Research