In January-May 2018 new bus sales amounted to 5.3 thousand buses which was a 15.2% growth on the same period of 2017. In May 2018 the market grew by 20% on May 2017 and made 1.2 thousand new buses.
PAZ accounted for 49% of new bus sales with 2.61 thousand buses sold and a 1.6 r% rise in sales.
LIAZ and NEFAZ came second and third with a 41% and a 76% growth in sales correspondingly.
Sales of foreign brands were 59.8% up whereas sales of Russian brands increased by 10.9%, which led to a decline in the share of Russian brands from 87% to 83%.
New bus sales,
January-May, 2017-2018, thousand units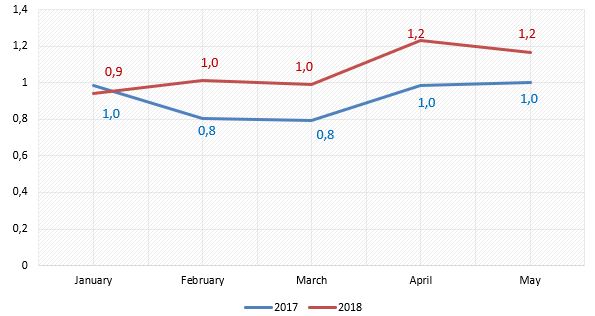 Source: Russian Automotive Market Research
New bus sales, TOP-10 brands,
January-May, 2017-2018, thousand units
| | | | |
| --- | --- | --- | --- |
| Brand | January-May 2017 | January-May 2018 | Change, % |
| PAZ | 2,57 | 2,61 | 1,6% |
| LIAZ | 0,78 | 1,1 | 41,0% |
| NEFAZ | 0,21 | 0,37 | 76,2% |
| MAZ | 0,25 | 0,33 | 32,0% |
| YUTONG | 0,1 | 0,25 | 150,0% |
| VOLGABUS | 0,22 | 0,16 | -27,3% |
| KAVZ | 0,12 | 0,11 | -8,3% |
| HIGER | 0,04 | 0,09 | 125,0% |
| KING LONG | 0,05 | 0,08 | 60,0% |
| GOLDEN DRAGON | 0,01 | 0,07 | 600,0% |
| Other | 0,25 | 0,13 | -48,0% |
| Total | 4,60 | 5,30 | 15,2% |
Source: Russian Automotive Market Research
New bus sales by brand origin,
January-May, 2017-2018, thousand units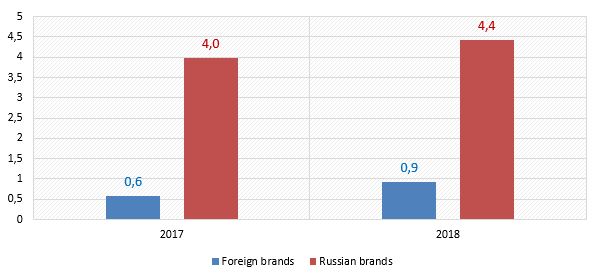 Source: Russian Automotive Market Research