In January-May 2018 new truck sales amounted to 30.8 thousand vehicles which was a 25.2% growth on the same period of 2017.
In May the current year 5.9 thousand vehicles were sold (+7.3% on May 2017). The growth rates are slowing down.
KAMAZ sold 10.6 thousand vehicles (+9.3% on January-May 2017), GAZ – 3.6 thousand trucks (+12.5%). The share of Russian brands declined from 57.0% a year before to 49.6%.
VOLVO is the market leader among foreign brands. Over the first five months of 2018 VOLVO sales grew 56.3% to 2.5 thousand trucks.
New truck sales, Jan-May 2017-2018, thousand units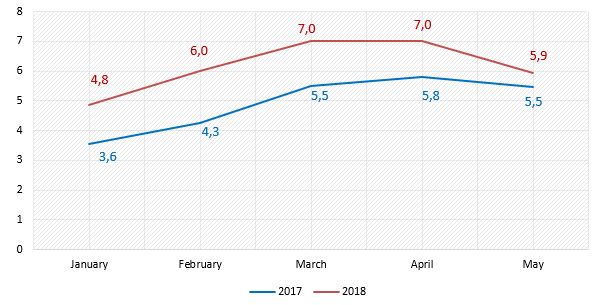 Source: Russian Automotive Market Research
New truck sales, TOP-10 brands, Jan-May 2017-2018, thousand units
| | | | |
| --- | --- | --- | --- |
| Brand | January-May 2017 | January-May 2018 | Change, % |
| KAMAZ | 9.7 | 10.6 | 9.3% |
| GAZ | 3.2 | 3.6 | 12.5% |
| VOLVO | 1.6 | 2.5 | 56.3% |
| SCANIA | 1.4 | 2.2 | 57.1% |
| MAN | 1.1 | 1.9 | 72.7% |
| MERCEDES-BENZ | 1.4 | 1.5 | 7.1% |
| MAZ | 1.4 | 1.4 | 0.0% |
| DAF | 1 | 1.2 | 20.0% |
| URAL | 1.1 | 1.1 | 0.0% |
| ISUZU | 1 | 1.1 | 10.0% |
| Other | 1.7 | 3.7 | 117.6% |
| Total | 24.6 | 30.8 | 25.2% |
Source: Russian Automotive Market Research
New truck sales by brand origin, Jan-May 2017-2018, thousand units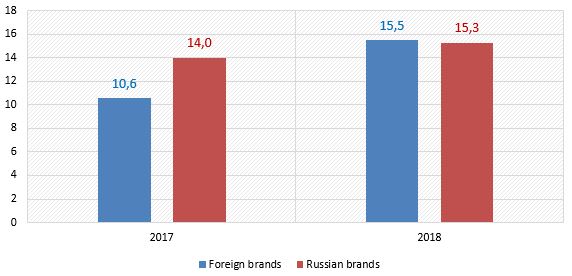 Source: Russian Automotive Market Research