In January-May 2018 new LCV sales grew 8.3% on the same period of 2017 to 48.2 thousand vehicles. In May 10.1 thousand new LCV were sold which was a 14.8% rise on May 2017.
In January-May 2018 foreign brand sales went 34.6% up whereas Russian brand sales, on the contrary, decreased by 1.3%, which led to a fall in the share of Russian brands on the LCV market from 73% to 67%.
GAZ accounted or 41% of the market with 19.7 thousand light commercial vehicles sold and an 11.9% rise in sales.
UAZ sales, on the contrary, went 23.4% down to 8.5 thousand vehicles. UAZ share declined from 25% to 18%.
Ford is the most popular foreign brand. Ford sales grew by 73.9% and Ford market share went up from 5% to 8%.
New LCV sales,
January-May 2017-2018, thousand units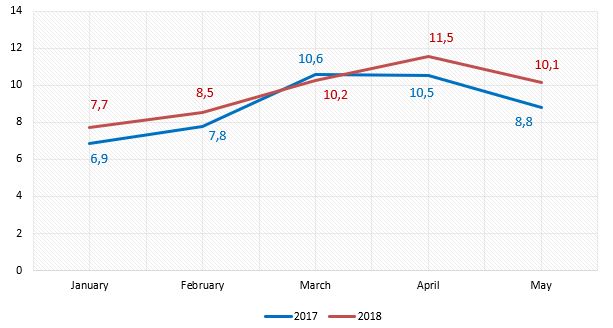 Source: Russian Automotive Market Research
New LCV sales, TOP-10 brands,
January-May 2017-2018, thousand units
| | | | |
| --- | --- | --- | --- |
| Brand | Jan-May 2017 | Jan-May 2018 | Change, % |
| GAZ | 17.6 | 19.7 | 11.9% |
| UAZ | 11.1 | 8.5 | -23.4% |
| FORD | 2.3 | 4 | 73.9% |
| LADA | 3.3 | 3.3 | 0.0% |
| MERCEDES-BENZ | 2.7 | 3 | 11.1% |
| VOLKSWAGEN | 2.4 | 2.8 | 16.7% |
| MITSUBISHI | 0.3 | 1.2 | 300.0% |
| TOYOTA | 1.4 | 1.1 | -21.4% |
| PEUGEOT | 0.7 | 1 | 42.9% |
| CITROEN | 0.6 | 0.8 | 33.3% |
| Other | 2.1 | 2.8 | 33.3% |
| Total | 44.5 | 48.2 | 8.3% |
Source: Russian Automotive Market Research
New LCV sales by brand origin,
January-May 2017-2018, thousand units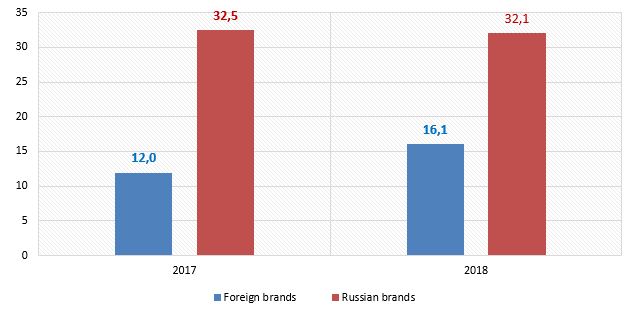 Source: Russian Automotive Market Research