In January-April 2018 new trailer and semitrailer sales amounted to 8.8. thousand units, which was a 41.9% growth on the same period of 2017. In April 2018 new trailer market showed a 38.9% rise on April 2017 and made 2.5 thousand units.
SCHMITZ with 1.1 thousand trailers sold and a 13% market share is the market leader, at that SCHMITZ sales grew 37.5%.
NEFAZ and KRONE came second and third with a 16.7% and a 100.0% rise in sales correspondingly.
TONAR and KOGEL increased their sales by 100% and KAESSBOHRER sales grew by 200%.
Sales of foreign brands showed a larger growth than those of Russian brands: sales of foreign brands went 63.8% up while sales of Russian brands increased by 31.7%.
New trailer sales, Jan-Apr, 2017-2018, thousand units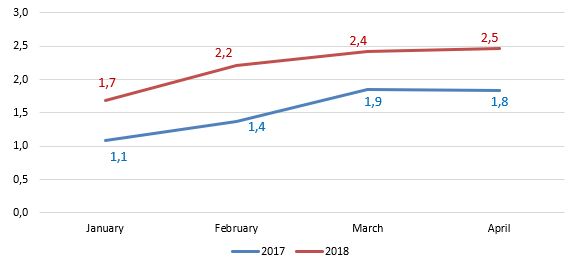 Source: Russian Automotive Market Research
New trailer sales, TOP-10 brands, Jan-Apr, 2017-2018, thousand units
| | | | |
| --- | --- | --- | --- |
| Марка | Jan-Apr, 2017 | Jan-Apr, 2018 | YoY change, % |
| SCHMITZ | 0,8 | 1,1 | 37.5% |
| NEFAZ | 0,6 | 0,7 | 16.7% |
| KRONE | 0,3 | 0,6 | 100.0% |
| TONAR | 0,3 | 0,6 | 100.0% |
| KOEGEL | 0,2 | 0,4 | 100.0% |
| WIELTON | 0,2 | 0,3 | 50.0% |
| GRUNWALD | 0,2 | 0,3 | 50.0% |
| KAESSBOHRER | 0,1 | 0,3 | 200.0% |
| SESPEL | 0,3 | 0,3 | 0.0% |
| NOVTRAK | 0,2 | 0,2 | 0.0% |
| Other | 3,0 | 4,0 | 33.3% |
| Total | 6,2 | 8,8 | 41.9% |
Source: Russian Automotive Market Research
New trailer sales by brand origin, Jan-Apr, 2017-2018, thousand units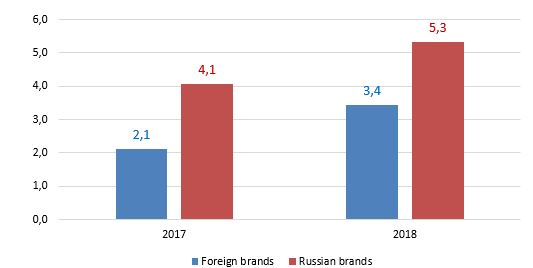 Source: Russian Automotive Market Research