In January-May 2018 new trailer and semitrailer1 sales amounted to 11 148 units, which was a 39.6% growth on the same period of 2017. In May 2018 new trailer market showed a 29.3% rise on May 2017 and made 2 360 units.
SCHMITZ with 1 250 trailers sold remains the market leader, at that SCHMITZ sales grew 9.7% over five months of 2018. However, in May 2018 SCHMITZ trailer sales sharply decreased by 35.4% on the same period of the last year and made 188 units.
A similar situation was typical for NEFAZ trailers. Following results of five months of 2018, the brand showed sales growth, but in May 2018 sales dynamics was negative.
In May 2018 sales decline among TOP-10 trailer brands was shown by GRAZ (-14.8%). At the same time, all TOP-10 brands demonstrated positive sales dynamics over the first five months of 2018.
The share of foreign trailers in the Russian market is growing. In January-May 2017 it was 35%, while in January-May 2018 – 39%. Rates of foreign trailer sales growth exceed those of Russian ones: +56.4% against +30.6%.
New trailer sales, thousand units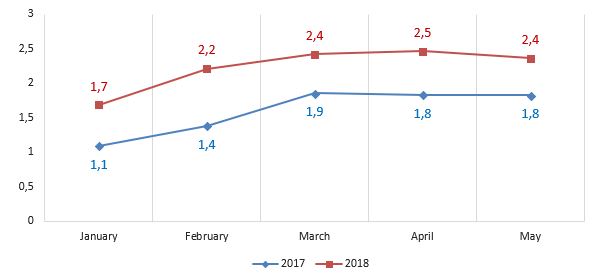 Source: Russian Automotive Market Research
New trailer sales, TOP-10 brands,
January-May 2017/18, units
| | | | |
| --- | --- | --- | --- |
| Brand | January-May 2017 | January-May 2017 | Change, % |
| SCHMITZ | 1139 | 1250 | 9.7% |
| NEFAZ | 842 | 908 | 7.8% |
| TONAR | 380 | 872 | 129.5% |
| KRONE | 370 | 855 | 131.1% |
| KOEGEL | 260 | 502 | 93.1% |
| SESPEL | 343 | 423 | 23.3% |
| WIELTON | 299 | 417 | 39.5% |
| GRUNWALD | 211 | 409 | 93.8% |
| KAESSBOHRER | 168 | 395 | 135.1% |
| NOVTRAK | 217 | 230 | 6.0% |
| Other | 3756 | 4887 | 30.1% |
| Total | 7985 | 11148 | 39.6% |
Source: Russian Automotive Market Research
New trailer sales, TOP-10 brands,
May 2017/18, units
| | | | |
| --- | --- | --- | --- |
| Brand | May 2017 | May 2018 | Change, % |
| TONAR | 83 | 296 | 256.6% |
| KRONE | 87 | 266 | 205.7% |
| SCHMITZ | 291 | 188 | -35.4% |
| NEFAZ | 217 | 181 | -16.6% |
| SESPEL | 77 | 113 | 46.8% |
| GRUNWALD | 47 | 88 | 87.2% |
| KAESSBOHRER | 43 | 84 | 95.3% |
| KOEGEL | 37 | 78 | 110.8% |
| WIELTON | 66 | 75 | 13.6% |
| GRAZ | 54 | 46 | -14.8% |
| Other | 823 | 945 | 14.8% |
| Total | 1825 | 2360 | 29.3% |
Source: Russian Automotive Market Research
New trailer sales, by brand origin, units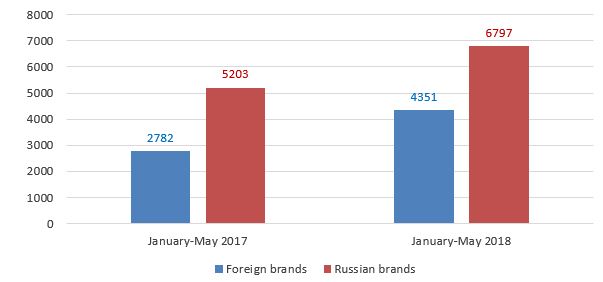 Source: Russian Automotive Market Research