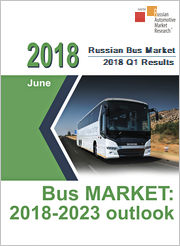 Phone: +7 831 464 02 98
Email: napi@abiz.ru
Word, PDF
Russian, English
77
Price: one-time purchase of the report – 550 EUR.
Price: quarterly updates – 350 EUR/quarter,
provided the contract for quarterly updates is concluded.
15.06.2018
550 €
Russian Automotive Market Research offers a new research «RUSSIAN BUS MARKET: OUTLOOK 2018-2023».
In 2018 new bus sales are expected to show a modest growth of 1.05% on 2017 and come to 11.9 thousand buses.
Small buses will dominate the market: in 2018 their share is expected to achieve 48.7% and in the midterm prospect small buses will make over 50% of the market. In 2018 the shares of large and extra large buses are expected to increase, while the share of medium buses will go 8.5% down.
The "Russian bus market: Outlook 2018-2023" report is prepared through a desk research. The data sources are state statistics service, manufacturers' data, dealers' data, our own databases. The report contains tables, charts, graphs.
---
CONTENT:
---
I

Macroeconomic indicators

GDP
Fixed-asset investment
Industrial production: price index
Oil prices
Currency exchange rate
Passenger turnover
Number of small businesses
Small business turnover

II

Legal factors

Recycling tax
Scrappage scheme
EURO-3,4,5 emission standards
A prohibition on public procurement of machinery and equipment produced abroad
Industrial assembly rules
CNG conversion programs for municipal utility vehicles
Fleet replacement (service life limit)
The Customs Union and new technical regulations for vehicles, fuel etc.
Revision of insurance rates

III

Bus production

Bus production

IV

New bus market
in Russia

Market dynamics
Market structure by price segments
Market structure by brands
Market structure by length
Market structure by class
Market structure by country of brand origin
Market structure by country of production
Market structure by Chinese brands
ТОР-15 regional new bus markets
Importers' and manufacturers' key events: model launch and deletion, service and finance programs

V

Used bus market
in Russia

Market dynamics
Market structure by price segments
Market structure by brands
Market structure by length
Market structure by class
Market structure by country of brand origin
Market structure by Chinese brands
ТОР-15 regional used bus markets

VI

Dealer networks

Changes in the number of dealerships
Changes in the number of dealerships by brands
Changes in the number of dealerships by regions

VII

Forecast for 2018-2023

Production forecast:
- production volume
- production volume by manufacturers
- Russian and foreign bus production

Market forecast:
- market volume
- Russian and foreign bus sales
- bus sales by price segments
- bus sales by brands