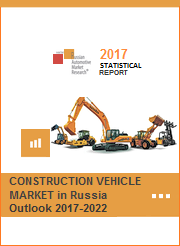 Phone: +7 831 464 02 98
Email: napi@abiz.ru
Word, PDF
Russian
101
16.10.2017
50 000 rub.
Russian Automotive Market Research presents the "Construction vehicle market in Russia. 2017-2022 outlook" report.
The report provides detailed information about the current market and its prospects.
The report comprises the data on production, import, export and sales of construction vehicles: dump trucks, loaders, excavators, bulldozers, cranes, road rollers, crushers, graders, concrete mixers. The reports covers wheeled trucks as well as tracked vehicles.
The report covers the 2016-2017 market and provides the 2017-2022 forecast.
Apart from a detailed analysis of the macroeconomic and legal factors affecting the construction vehicle market, the report includes profiles of the leading manufacturers of construction vehicles.
CONTENTS:
1. Macroeconomics 2017-2022
1.1. Macroeconomic indices
1.1.1. GDP
1.1.2. Fixed capital investment
1.1.3. Industrial production
1.1.4. Oil price
1.1.5. Currency exchange rate
1.2. Aggregate impact of specific macroeconomic factors
1.3. Construction industry development
1.3.1. Road construction development
1.3.2. Construction engineering development

2. Legal factors

3. Construction vehicle production
3.1. Construction vehicle production in 2016-2017
3.2. Construction vehicle production by body type in 2016
3.3. Construction vehicle production by body type in 2016-2017 (Jan-July)
3.4. Construction vehicle production, TOP-10 manufacturers in 2016-2017 (Jan-July)

4. New construction vehicle market
4.1. New construction vehicle market, 2016-2017 (Jan-July)
4.2. New construction vehicle market, TOP-10 brands, 2016-2017 (Jan-July)
4.3. New construction vehicle market, by body type, 2016-2017 (Jan-July)
4.4. New construction vehicle market, TOP-15 regions, 2016-2017 (Jan-July)

5. Used construction vehicle market
5.1. Used construction vehicle market, 2016-2017 (Jan-July)
5.2. Used construction vehicle market, TOP-10 brands, 2016-2017 (Jan-July)
5.3. Used construction vehicle market, by body type, 2016-2017 (Jan-July)
5.4. Used construction vehicle market, TOP-15 regions, 2016-2017 (Jan-July)

6. Average prices for new construction trucks
6.1. Average prices for new construction trucks, TOP-10 brands
6.2. Average prices for new construction trucks by body types
6.3. Average prices for new construction trucks by country of brand origin
6.4. Average prices for new construction trucks by gross vehicle weight
6.5. Average prices for new construction trucks, TOP-15 regions

7. New construction vehicle import
7.1. New construction vehicle import in numerical terms
7.1.1. New construction vehicle import, TOP-10 brands
7.1.2. New construction vehicle import by body type
7.1.3. New construction vehicle import, TOP-10 countries of brand origin
7.1.4. New construction vehicle import, TOP-10 recipients
7.2. New construction vehicle import in financial terms
7.2.1. New construction vehicle import, TOP-10 brands
7.2.2. New construction vehicle import by body type
7.2.3. New construction vehicle import, TOP-10 countries of brand origin
7.2.4. New construction vehicle import, TOP-10 recipients

8. New construction vehicle export
8.1. New construction vehicle export in numerical terms
8.1.1. New construction vehicle export, TOP-10 countries of destination
8.1.2. New construction vehicle export by body type
8.1.3. New construction vehicle export, TOP-10 recipients
8.2. New construction vehicle export in financial terms
8.2.1. New construction vehicle export, TOP-10 countries of destination
8.2.2. New construction vehicle export by body type
8.2.3. New construction vehicle export, TOP-10 recipients

9. Forecast for 2017-2022
9.1. New construction vehicle sales until 2022
9.2. New Russian and foreign construction vehicle sales

10. Summary

11. Company profiles