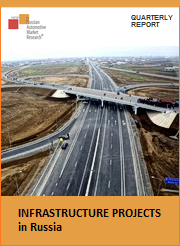 Phone: +7 831 464 02 98
Email: napi@abiz.ru
Excel
Russian, English
Update: Quarterly
Price: one-time purchase of the report – 275 EUR.

20.07.2020
275 €
Russian Automotive Market Research presents a database of the largest road construction projects in Russia.
The database contains information on implementation of both current and new launched in 2019 projects. It provides for detailed information on the planned schedule of work, current stages, customers and contractors. The volume of investment and project financing are considered in detail.
The database makes it possible to predict the demand for various types of automotive, road, special purpose vehicles at the local level, for spare parts in the medium term, to assess the feasibility of opening a dealer/service center in a certain area, to decide on the brand strategy in the Russian regions.
The database in Excel format is released once a quarter.

INFRASTRUCTURE PROJECTS database:
Road construction
Federal district
Highway/road name
Project
Date of commencement of work
Date of completion
Customer
Contractor
Funds
Construction phase