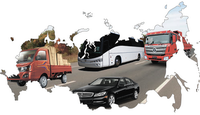 LATEST UPDATE:
2021
ARCHIVE:
2020, 2019, 2018, 2017, 2016, 2015, 2014, 2013, 2012, 2011, 2010
---
Russian Automotive Market Research analyzes the Russian vehicle population.
Vehicle population is a total number of vehicles operated in Russia. Analysis of the vehicle population is broken down by all Russian regions and the following vehicle types:
cars
trucks and special purpose vehicles
LCV
buses
trailers
This database provides for the fleet structure by brands and models, year of manufacture, technical specifications and many other parameters at your request.
The «Russian vehicle population» database was supplemented with such parameters as holding and leased vehicle.
Analysis of the vehicle population will be useful for:
ОЕМ
Leasing companies
Insurance companies
Large dealer groups
Auto components and spare parts manufacturers
Wholesale companies selling spare parts
Telematics service providers
Marketing agencies
The «Russian vehicle population» database will allow you to:
assess the Russian vehicle population capacity
track the change in the vehicle number : the launch of new vehicles and withdrawal of unserviceable ones from the fleet
receive comprehensive information on vehicles in any Russian region or city
monitor various trends in the Russian vehicle fleet
Russian Automotive Market Research records the vehicle number in the Russian fleet twice a year – as of January 1 and July 1.
Results of the vehicle population research are presented in Excel, Access, MS SQL, CSV.
---
Other research:
>> Corporate vehicle fleet in Russia
>> Corporate fleets supplemented with companies' financial data