Regular reports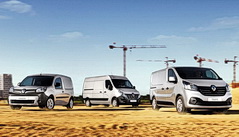 LCV FLEET IN RUSSIA
The marketing agency Russian Automotive Market Research presents «LCV Fleet in Russia» report (as of 01.07.2018 г.).
The lcv fleet is analyzed by region, city, settlement, brand, model, year of manufacture etc.
Market Analysis
Information
---
Customized products
SURVEYS OF CORPORATE FLEET REPRESENTATIVES
Russian Automotive Market Research conducts surveys of representatives of companies with corporate fleets. This is the fleet-park management responsible for the operation of vehicles and park renewal. You will learn about the factors of choice from decision makers:
• choice of the car brand,
• procurement of new vehicles and withdrawal of old ones from the fleet,
• corporate purchase of spare parts or conclusion of service contracts with
third parties,
• selection of leasing, financial, insurance companies, suppliers of
telematics equipment, fuel, etc.