Regular reports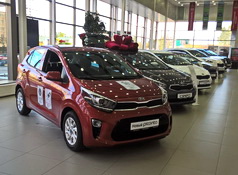 NEW CAR DEALER PRICES
Russian Automotive Market Research presents the «New car dealer prices» database.
The database contains prices of 600 official dealerships in all regions of the Russian Federation for the current model line-up of new cars. Detailed specifications and options are provided for each model.
Database allows you to compare prices for the model of interest in different regions and dealerships, track the dynamics of dealers' prices for new cars, etc.
Market Analysis
Information
---
Customized products
SEARCH OF THE STOCK NUMBERS OF SPARE PARTS, OILS AND FLUIDS
The marketing agency Russian Automotive Market Research offers a new product – «Search of the stock numbers of spare parts, oils and fluids».
Spare parts market analysis is carried out according to the official OEM catalogues under the order.
The complete list of spare part numbers is a comprehensive tool enabling to analyze competitor's pricing policy, monitor prices for genuine and non-genuine spare parts.
---