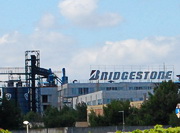 Russian Automotive Market Research
Construction of the first Russian plant of the Japanese Bridgestone was completed in the Ulyanovsk region. The company located in Zavolzhye industrial Park will produce radial tires for cars.
The total investment in the project amounted to 12.5 billion rubles. Currently the company employs 470 people, when it reaches the full production capacity the number of jobs will increase to 800. The company expects to produce up to 2 million tires annually, with a further increase to 4 million tires per year with the recovery of the automotive market.
The plant will supply products to the Russian tire market and CIS countries. In the future, in case of capacity increase, the company admits the possibility to export part of its products to other countries.
Ulyanovsk plant will begin mass production in the fourth quarter of 2016. The official opening of the new plant is scheduled for spring 2017.