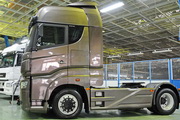 Russian Automotive Market Research
Next year KAMAZ plans to produce a pilot batch of KAMAZ-54901 long-haul tractor units of the new generation. Serial production of the model will be launched in 2019.
Long-haul tractor unit of the new generation is one of the main projects of the company. To achieve this goal a new plant for the production of frames of K5 generation cabins was built jointly with Daimler in a short time. Along with the new cabin the new generation vehicles will be equipped with the new inline six-cylinder engine R6. KAMAZ engine plant has already prepared a new assembly line for this task.
KAMAZ-54901 truck is equipped with a new automatic ZF Traxon transmission. The vehicle frame is made of lightweight high-strength steel, its front axle has the increased load to 9 tons and maintenance-free hub part, a gear ratio of hypoid axles varies from 2.5 to 3.07, capacity of the fuel tanks increased (one tank of 700 liters or 2 tanks of 1200 liters).
The company plans to enter the global market with the new vehicle.