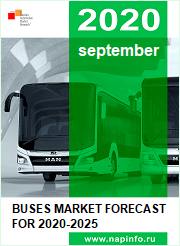 Phone: +7 831 464 02 98
Email: napi@abiz.ru
PDF
Russian, English
82
Price: one-time purchase of the report – 550 EUR.
14.09.2020
550 €
Add to basket
«Bus market forecast for 2020-2025» contains detailed information on the Russian market – new and used bus sales, data on the bus production in Russia, the number and location of dealerships, average sales per dealership, as well as macroeconomic indicators and legal factors affecting the market.
In addition, the report provides for the bus sales forecast for 2020-2025 by price segments, classes and brands, as well as the bus production forecast.
The report is prepared through desk research. The main data sources are own databases, state statistics service, manufacturers' and dealers' data. The report contains tables, charts, graphs.
The detailed analysis and the Russian bus market forecast are a necessary tool for strategic planning.
Content:
I

Macroeconomic indicators

1.1. General macroeconomic indicators
1.1.1. GDP
1.1.2. Fixed assets investment
1.1.3. Industrial production
1.1.4. Business confidence index
1.1.5. Consumer confidence index
1.1.5. Fuel excise duty
1.1.7. Oil prices
1.1.8. Ruble exchange rate
1.2. Aggregate impact of specific macroeconomic indicators on the bus market

II

Legal factors

2. Legal factors

III

Bus production

3. Bus production


IV

New bus market

4.1. New bus sales
4.2. New bus sales by price segments
4.3. New bus sales, ТОР-15 brands
4.4. New bus sales, ТОР-15 models
4.5. New bus sales by bus length
4.6. New bus sales by classes
4.7. New bus sales by brand origin
4.8. New bus sales by countries of brand origin
4.9. New bus sales by production origin
4.10. New bus sales by country of manufacture
4.11. New bus sales by engine displacement
4.12. New bus sales by engine type
4.13. New bus sales, ТОР-20 regions

V

Used bus market

5.1. Used bus sales
5.2. Used bus sales by price segments
5.3. Used bus sales, ТОР-10 brands
5.4. Used bus sales, ТОР-10 models
5.5. Used bus sales by bus length
5.6. Used bus sales by classes
5.7. Used bus sales by brand origin
5.8. Used bus sales, ТОР-10 countries of brand origin
5.9. Used bus sales by production origin
5.10. Used bus sales, ТОР-10 countries of production
5.11. Used bus sales by engine displacement
5.12. Used bus sales by engine type
5.13. Used bus sales, ТОР-20 regions

VI

Bus dealer networks

6. Bus dealer networks

VII

Forecast for 2020-2025

7.1. New bus market forecast
7.1.1. Total market capacity
7.1.2. New Russian and foreign bus sales
7.1.3. New bus sales by price segments
7.1.4. New bus sales by classes
7.1.5. New bus sales by brands
7.2. Bus production forecast
7.2.1. Bus production
7.2.2. Russian and foreign bus production
7.2.3. Bus production by manufacturers

VIII

Bus market news

8. Bus market news