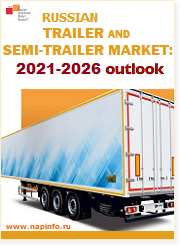 Phone: +7 831 464 02 98
Email: napi@abiz.ru
PDF
Russian
119
05.10.2021
55 000 rub.
The report contains detailed information on the Russian market - sales of both new and used trailers, leasing, trailer population and corporate fleet, trailer production, price dynamics and market revenue.
The sales forecast is based on the forecast of oil prices, the ruble exchange rate, the Russia's GDP, etc., as well as legal factors affecting the market.
Moreover, the report includes the market forecast by body type, GVW, as well as market revenue forecast of both markets in money terms for 2021-2026.
The "Forecast of trailer and semi-trailer market for 2021-2026" report is prepared through desk research. The main data sources are own databases, state statistics service, manufacturers' and dealers' data. The marketing report contains tables, charts, graphs.
The detailed analysis and the Russian trailer market forecast are a necessary tool for strategic planning.
CONTENT
I

Macroeconomic indicators,
2021-2026

1.1. General macroeconomic indicators, 2021-2026
1.1.1. GDP
1.1.2. Fixed assets investment
1.1.3. Industrial production
1.1.4. Business confidence index
1.1.5. Oil prices
1.1.6. Ruble exchange rate
1.2. Aggregate impact of specific macroeconomic indicators on the new trailer and semi-trailer market

II

Legal factors

2.1. Recycling tax
2.2. Programs aimed to support sales and production
2.2.1. Industrial subsidies within the "Development of industry and increase of its competitiveness" program
2.2.2. Special investment contracts (SPIC)
2.3. Localization
2.4. A ban on public procurement of foreign vehicles
2.5. Change in the rules for import of used trailers and semi-trailers
2.6. Support of trailer and semi-trailer exporters
2.7. Leasing

III

New trailer market

3.1. New trailer sales, 2019-2020 (January-December)
3.1.1. New trailer sales, ТОР-20 brands
3.1.2. New trailer sales, ТОР-20 models
3.1.3. New trailer sales, ТОР-10 body types
3.1.4. New trailer sales of the most in-demand body types by brand
3.1.5. New trailer sales of the most in-demand body types by model
3.1.6. New trailer sales by GVW
3.1.7. New trailer sales by brand origin
3.1.8. New trailer sales by production origin
3.1.9. New trailer sales, ТОР-20 regions
3.2. New trailer sales, 2020-2021 (January-May)
3.2.1. New trailer sales, ТОР-20 brands
3.2.2. New trailer sales, ТОР-20 models
3.2.3. New trailer sales, ТОР-10 body types
3.2.4. New trailer sales of the most in-demand body types by brand
3.2.5. New trailer sales of the most in-demand body types by model
3.2.6. New trailer sales by GVW
3.2.7. New trailer sales by brand origin
3.2.8. New trailer sales by production origin
3.2.9. New trailer sales, ТОР-20 regions

IV

Used trailer market

4.1. Used trailer sales, 2019-2020 (January-December)
4.1.1. Used trailer sales, ТОР-20 brands
4.1.2. Used trailer sales, ТОР-20 models
4.1.3. Used trailer sales, ТОР-10 body types
4.1.4. Used trailer sales of the most in-demand body types by brand
4.1.5. Used trailer sales of the most in-demand body types by model
4.1.6. Used trailer sales by GVW
4.1.7. Used trailer sales by brand origin
4.1.8. Used trailer sales, ТОР-20 regions
4.2. Used trailer sales, 2020-2021 (January-May)
4.2.1. Used trailer sales, ТОР-20 brands
4.2.2. Used trailer sales, ТОР-20 models
4.2.3. Used trailer sales, ТОР-10 body types
4.2.4. Used trailer sales of the most in-demand body types by brand
4.2.5. Used trailer sales of the most in-demand body types by model
4.2.6. Used trailer sales by GVW
4.2.7. Used trailer sales by brand origin
4.2.8. Used trailer sales, ТОР-20 regions

V

Trailer market revenue
and price dynamics

5.1. New trailer market revenue and price dynamics, 2019-2020 (January-December)
5.2. Used trailer market revenue and price dynamics, 2019-2020 (January-December)
5.3. New trailer market revenue and price dynamics, 2020-2021 (January-May)
5.3.1. New trailer market revenue and price dynamics by brand
5.3.2. New trailer market revenue and price dynamics by region
5.4. Used trailer market revenue and price dynamics, 2020-2021 (January-May)
5.4.1. Used trailer market revenue and price dynamics by brand
5.4.2. Used trailer market revenue and price dynamics by region

VI

Trailer leasing

6. Trailer leasing

VII

Trailer population
as of 01.06.2021

7.1. Trailer population as of 01.06.2021 by age
7.2. Trailer population as of 01.06.2021 by type of ownership
7.3. Trailer population as of 01.06.2021, ТОР-20 brands
7.4. Trailer population as of 01.06.2021, ТОР-10 body types
7.5. Trailer population as of 01.06.2021 of the most in-demand body types by brand

VIII

Trailer corporate fleet
as of 01.06.2021

8.1. Trailer corporate fleet as of 01.06.2021 by age
8.2. Trailer corporate fleet as of 01.06.2021, ТОР-20 brands
8.3. Trailer corporate fleet as of 01.06.2021, ТОР-10 body types
8.4. Trailer corporate fleet as of 01.06.2021, ТОР-20 largest fleets
8.4.1. Trailer corporate fleet as of 01.06.2021, ТОР-20 largest fleets by brand
8.4.2. Trailer corporate fleet as of 01.06.2021 ТОР-20 largest fleets by age
8.4.3. Trailer corporate fleet as of 01.06.2021 ТОР-20 largest fleets by body type

IX

Trailer production

9.1. Trailer production, 2019-2020 (January-December)
9.2. Trailer production, 2020-2021 (January-June)

X

Trailer market forecast
for 2021-2026

10.1. New trailer market forecast
10.1.1. Total market
10.1.2. Trailer market revenue forecast
10.1.3. New Russian and foreign trailer sales
10.1.4. New trailer sales by body type
10.1.5. New trailer sales by brand, 2021