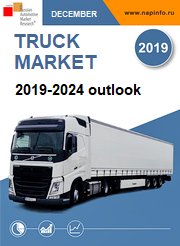 Phone: +7 831 464 02 98
Email: napi@abiz.ru
PDF
Russian, English
139
Price: one-time purchase of the report – 550 EUR.
Price: quarterly updates – 350 EUR/quarter,
provided the contract for quarterly updates is concluded.
18.12.2019
550 €
Add to basket
The report contains detailed information for a comprehensive assessment of the truck market: production and sales, the number and location of dealerships, price dynamics and financial capacity, as well as macroeconomic indicators and legal factors affecting the market.
Based on this information the new truck market forecast for 2019-2024 by brands, body types, GVW, etc., and also the truck production forecast were developed.
New! New truck market financial capacity forecast.
The truck market forecast for 2019-2024 is prepared through desk research. The main data sources are own databases, state statistics service, manufacturers' and dealers' data. The report contains tables, charts, graphs.
The new truck market forecast in Russia is a necessary planning tool in any company operating in the truck market.
Content:
Macroeconomic indicators

Legal factors

Truck production

New truck market

New 16+ ton BIG-7 truck market

Used truck market

Used 16+ ton BIG-7 truck market

Truck dealer networks

Financial capacity and new and used truck price dynamics

Market and production forecast for 2019-2024

Truck market news