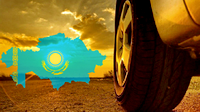 Latest update
2020, montly
Archive:
2019, 2018, 2017, 2016, 2015, 2014
---
Russian Automotive Market Research monthly monitors the automotive market in the Republic of Kazakhstan.
The «Automotive market in the Republic of Kazakhstan» database contains data on sales of new and used vehicles for the reporting month and for the period from the beginning of the year to the reporting month. The automotive market analysis is carried out throughout Kazakhstan and broken down by 14 regions and 3 cities of national importance.
The database provides data on the automotive market for all vehicle types:
Cars

Trucks

LCV

Buses

Trailers
The database on the automotive market of Kazakhstan includes data on:
Vehicle brand, model and version

Country of the brand origin

Technical specifications (engine type, gear box, wheel arrangement, etc.))

Type of the vehicle ownership

Other

(at your request)
The automotive market analysis will be useful for:
ОЕМ

Leasing companies

Insurance companies

Auto components and spare parts manufacturers

Wholesale companies selling spare parts

Telematics

service providers

Body builders

Marketing agencies

Dealers

Banks

Other
The «Automotive market in the Republic of Kazakhstan» database allows you to make a comprehensive analysis of the automotive market:
Assess the

Kazakhstan

automotive market capacity

Track the dynamics of new and used vehicle sales

Receive comprehensive information on vehicles in any

Kazakhstan

region or city

Study demand for certain

vehicles

Assess the competition density in the market

Study any segments of the market

Monitor the latest market trends
The database is provided in Excel format.
---
Other research:
>> Automotive market in Belarus
>> Dynamics of the Kazakhstan new vehicle market, by vehicle type