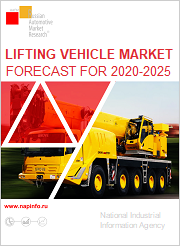 Phone: +7 831 464 02 98
Email: napi@abiz.ru
PDF
Russian
68
07.05.2020
600 €
The report contains detailed information for a comprehensive assessment of the market of both new and used lifting vehicles - sales, macroeconomic indicators and legal factors affecting the market.
The report covers the following types of lifting vehicles:
Autotower
Autocrane
Car lift
Tow truck
Dropside vehicle with manipulator
Crane-manipulator
Manipulator
The lifting vehicle market forecast is based on significant decline in oil prices, the ruble exchange rate, Russian GDP, projected dynamics of these and other indicators, coronavirus pandemic, as well as legal factors affecting the market. The sales forecast includes both general forecast of the new lifting vehicle market and details on the segments of this market (Russian/foreign vehicles, GVW, brand).
«Lifting vehicle market forecast for 2020-2025» is prepared through a desk research. The main data sources are manufacturers' own databases and state statistics service. The report contains tables, charts, graphs
The report allows you to get detailed information on the current and future state of the market and make strategic plans for the coming years.
CONTENT
1. Macroeconomic indicators

1.1. General macroeconomic indicators dynamics

1.1.1. GDP

1.1.2. Fixed asset investment

1.1.3. Industrial production

1.1.4. Index of entrepreneurial confidence of organizations

1.1.5. Oil price

1.1.6. Ruble exchange rate

1.2. Aggregate impact of specific macroeconomic indicators on the new lifting vehicle market

2. Legal factors

2.1. Legal factors

3. New lifting vehicle market

3.1. New lifting vehicle market

3.2. New truck market by vehicle type

3.3. New lifting vehicle sales by month

3.4. New lifting vehicle sales, ТОР-10 brands

3.5. New lifting vehicle sales, ТОР-10 models

3.6. New lifting vehicle sales by body type

3.7. New lifting vehicle sales, ТОР-10 body builders

3.8. New lifting vehicle sales by axle arrangement

3.9. New lifting vehicle sales by GVW

3.10. New lifting vehicle sales by brand origin

3.11. New lifting vehicle sales by country of brand origin

3.12. New lifting vehicle sales country of manufacture

3.13. New lifting vehicle sales, ТОР-20 regions

4. Used lifting vehicle market

4.1. Used truck market by vehicle type

4.2. Used lifting vehicle sales by month

4.3. Used lifting vehicle sales, ТОР-10 brands

4.4. Used lifting vehicle sales, ТОР-10 models

4.5. Used lifting vehicle sales by body type

4.6. Used lifting vehicle sales by axle arrangement

4.7. Used lifting vehicle sales by GVW

4.8. Used lifting vehicle sales by brand origin

4.9. Used lifting vehicle sales by country of brand origin

4.10. Used lifting vehicle sales by country of manufacture

4.11. Used lifting vehicle sales, ТОР-20 regions

5. New lifting vehicle market forecast

5.1. Market capacity

5.2. New Russian and foreign lifting vehicle sales

5.3. New lifting vehicle sales by GVW

5.4. New lifting vehicle sales by brands